Frill Jersey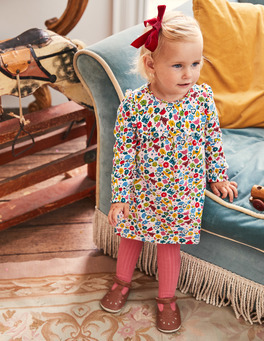 Why have one ruffle when you can have three? We've put frills around the cuffs, yoke AND neckline of this nostalgic long-sleeved jersey dress. And then we've made it even sweeter with tiny toys or shiny stars prints. This ruffly piece has poppers at the back for easy changing once the party's over.…
$40.00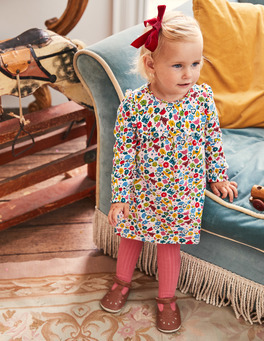 Why have one ruffle when you can have three? We've put frills around the cuffs, yoke AND neckline of this nostalgic long-sleeved jersey dress. And then we've made it even sweeter with tiny toys or shiny stars prints. This ruffly piece has poppers at the back for easy changing once the party's over.…
$40.00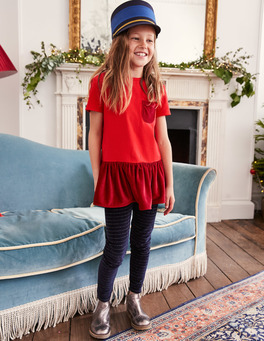 …ahead? This T-shirt – complete with flouncy velvet peplum – is here to save the day. The loose, swing style means it can be dressed up for parties or down for a walk in the park. It's crafted from heavyweight soft jersey fabric, and even has a handy velvet pocket. See you Monday, school uniform.
$44.00 $26.40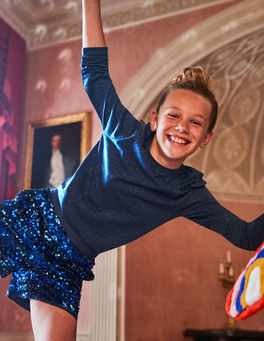 What do you get when frills meet thrills? This twinkly top. To go with the sparkly, jersey fabric, it has flouncy double ruffles on the shoulders. They're embellished with contrasting sequins for added shimmer. Prepare to out-gleam, out-glimmer and out-glint everyone else at the party.
$44.00 $26.40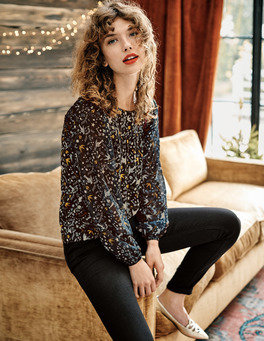 Woven bell sleeves in a semi-sheer chiffon, frill detailing on the yoke, keyhole neckline, drapey fabric... Sounding too good to be true? We can assure you this top is every bit as amazing as it sounds. Our easy-to-wear style comes in two pretty, in-house-designed prints, but we also made it in…
$110.00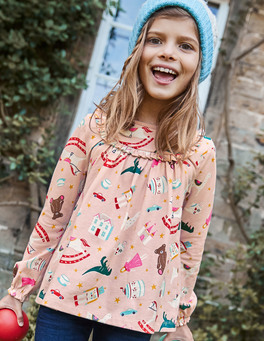 …creating mud pie in the garden... our patterned top is ready. Frills take centre stage, but there are ruffles across the front and around the cuffs too. It's decorated with a fun shimmering print, and has gathers in the jersey fabric which give it a playful swing. With a wonderfully comfortable…
$40.00 $24.00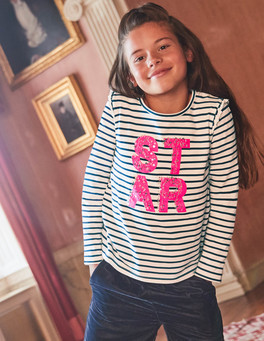 When is a T-shirt more than a T-shirt? When we add printed graphics with sparkly details to the front, then pop on some sleeve frills for good measure. It's eye-catching, but with a relaxed fit in 100% cotton jersey, it's comfortable and easy to wear too.
$40.00 $24.00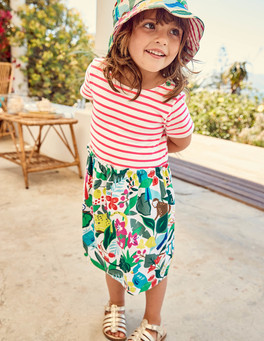 …top and bold printed skirt. Whether you choose underwater creatures, fluttery butterflies or another characterful print, the jersey cotton is perfect for climbing the rigging. There's a frill at the waist, functional shoulder buttons and discreet pockets – so there's no need to bury that treasure.
$48.00 $24.00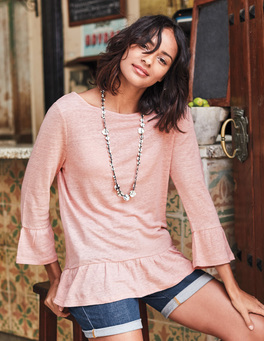 Whether you're exploring far-flung shores or just trying to keep cool in the office, slip on this versatile linen top. Subtly flared frill details on the hem and sleeves give a loose shape for a relaxed fit, while the soft, breathable fabric mean this is nothing short of a warm weather essential.
$95.00 $38.00