Glow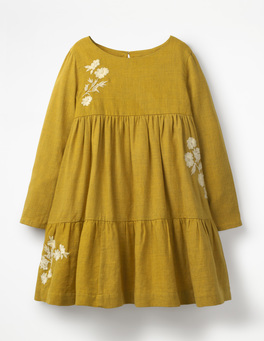 What's light and has lots of sweet layers? No, not a slice of cake – it's our tiered dress, of course. But we think the bright colours and handy pockets make it just as delicious. Gathered seams add some freshly baked volume, without a crumb in sight.
$60.00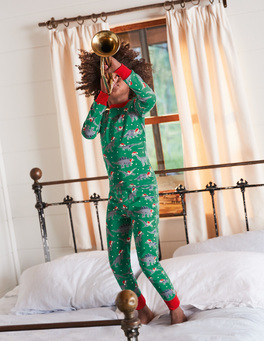 All sorts of strange things happen after dark: owls start hooting, hedgehogs come out to play and cosy long john pyjamas magically light up the night. With these fun glow-in-the-dark designs made from supersoft cotton, space cadets will snooze happily while they dream of their next mission.
$48.00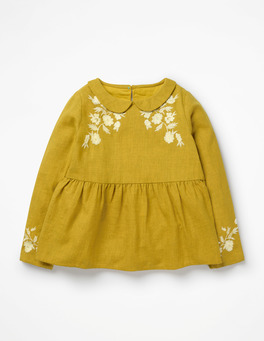 A Peter Pan collar + ruffles = this dainty peplum top. We've done the maths, and this cotton-rich design is the most charming we could possibly make it, and the most comfortable too. It's perfect for gatherings with grown-ups and play dates with other Minis.
$52.00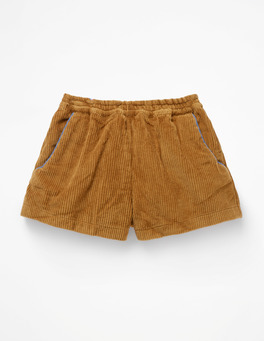 Made from chunky cotton cord, these shorts are ready for wintry weather. We added a top-secret floral lining (don't tell!) and contrast piping. They're comfortable to wear thanks to the ruffled, elasticated waistband and have plenty of pockets – perfect for tucking in a biscuit (or three).
$40.00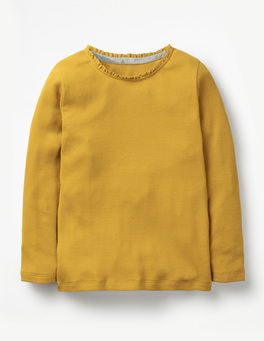 It's well known that it's important for explorers to stay warm on their adventures. This cosy, long-sleeved T-shirt was made for just that. It's crafted from ribbed jersey for super-comfortable stretchiness. There are a few extra-special details too: look out for delicate lace at the neckline and…
$24.00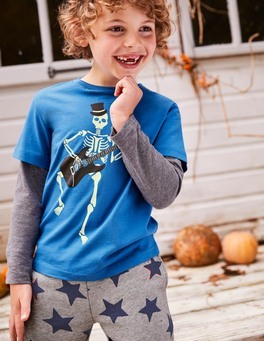 Shake, rattle and roll with our Halloween-themed T-shirt. Glow-in-the-dark designs give little monsters the eerie edge, while double layers of 100% cotton and long sleeves make sure they stay wickedly warm on trick-or-treat missions.
$36.00 $28.80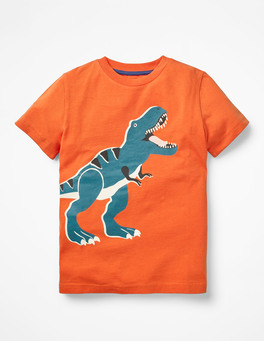 Get ready to roar – when the lights go out, this soft cotton T-shirt springs to life. The glow-in-the-dark prints were made for midnight snacks, showing off at pyjama parties and sneaking up on unsuspecting parents. In a relaxed-fit jersey, they're comfortable enough for daytime adventures too.
$32.00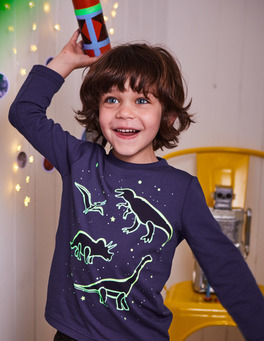 Ready, time travellers? This T-shirt will send palaeontologists back into the prehistoric world or aspiring astrologists into outer space. In supersoft cotton with cosy long sleeves, choose from glow-in-the-dark dinos or supersonic spacecraft for adventures into the unknown.
$36.00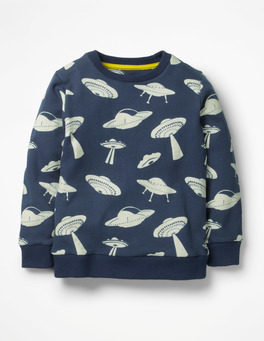 What does today have in store – exploring outer space or doing the robot dance? Whichever it is, bring the adventure to life with the foil and glow-in-the-dark detailing on our 100% cotton crew-neck sweatshirt. The brush-back effect on the inside keeps explorers (or dancers) cosy and warm too.
$52.00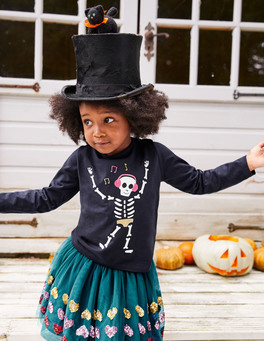 …Our spotty skeleton friend (who's also a little bit spooky) is always ready to dance the night away. Why? Because he glows in the dark. And with glittering gold pants, he glows in the daytime too. This long-sleeved jersey top has a supersoft finish, so it's comfortable to wear for boogieing along…
$36.00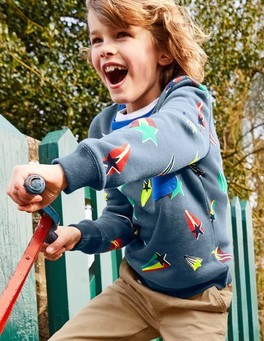 Wrap up for adventures on brisk days with this bold sweatshirt. Brushback fabric means it feels great, and the playful prints and glow-in-the-dark lightening bolt option look super cool too. Cuffs keep out the chills on the bike ride to the park.
$52.00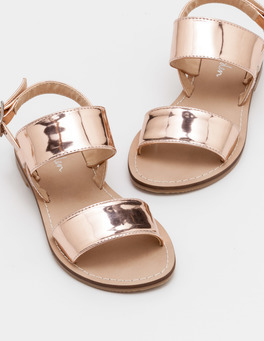 Turning up the glow is toe-tappingly easy with these park-to-party sandals. The high-shine metallic upper makes shoe shining a doddle – just a quick wipe clean and they're ready for action. And the adjustable backstrap is on hand to cope with any overnight growth spurts.
$65.00 $32.50