White Shoes
Why do we love Mollie so much? Because she works with every outfit in our wardrobe. With a new, graphic heel shape and contrast pointed toe, team this slingback with skinnies, skirts or dresses – outfit done.
$168.00 $100.80
Whether you're pedalling as fast as you can or climbing trees, you need shoes that can keep up with you. And these colourful high tops are up to the job. Made from durable leather, they're ready to face the worst British weather (and the deadliest of missions).
$82.50 $33.00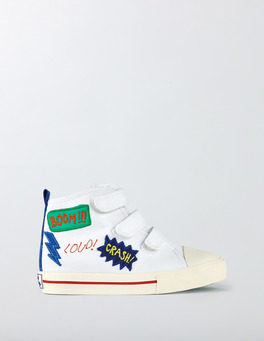 Run as fast as you can – the padded ankle cuffs of our super-sporty high tops have your back. Contrast pop art hues make these trainers stand out, and easy straps take the effort out of getting outdoors. Choose between run-faster stripes or shouty slogans to cheer you on.
$75.00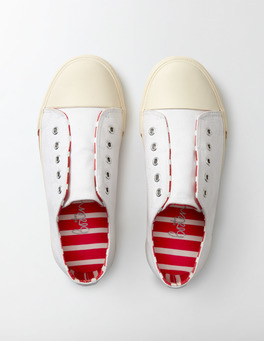 Speedy getaways are even faster without faffy laces. Our durable, canvas pull-ons have elasticated side panels so they're quick and easy to slip on and off. A striped sole gives them a bright pop of colour, and we've even added matching stripy lining.
$50.00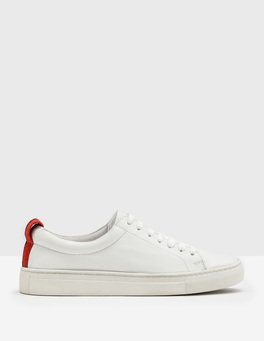 Whether you're taking a Sunday stroll or hitting the dance floor, these trainers are ready for action. We've paired a sleek shape with a classic finish and bright, playful looks. Don't miss the flash of colourful webbing at the back.
$170.00
Summer-relevant shoes can be worn with a suit (we promise). Designed with athletes in mind and made in Bolton, the Tornado has an ultra-lightweight upper and the iconic Vibram, self-cleaning outsole. A midsole made from shock-absorbing EVA – designed specifically to resist impact – offers…
$158.00
These stylish trainers combine the best of the old and the new. We've collaborated with Norman Walsh, the designer behind the 1984 British Olympic Team's multi-purpose training shoe, to deliver the best in quality and versatility.The herringbone tweed is a modern twist on the classic trainer.
$228.00
Our new leather trainers are here to shake up your wardrobe. The metallic stripes bring a hint of glam, even on dreary days, while the classic trainer styling keeps things casual. We advocate wearing these all week long.
$138.00 $69.00